An Interview with Anna Matveeva
I met the Russian writer Anna Matveeva upon arrival to Edinburgh last April. We were seated together in the backseat of a hatchback, headed from the airport to the majestic Hawthornden Castle. The castle, purchased in the 1980s by the philanthropist and former publisher of The Paris Review, Drue Heinz, now serves as an international retreat for writers.
"Have you been here before?" Anna asked me as we left the airport and merged onto the highway.
"No," I said.
I must have been visibly nervous, quite obviously wondering if I'd packed the proper clothing for the damp weather, and if I was mentally prepared to work under a daily vow of silence from nine to six and to live without internet access for a month.
"I was here five years ago," Anna said. She smiled then, her delicate features broadening, and promised, "It will be the best month of your life."
In many ways, it was.
While we were at Hawthornden, during one of our many walks through the gorgeous, wooded grounds, I encouraged Anna to apply for a residency at Faber in Olot, Spain so that she could enjoy the singular and beautiful landscape of my part of the world. Also, I wanted to make sure we could meet again.
Anna was invited to Faber for the last week of November 2019. We met in Barcelona right before she made her way north by bus to the province of Girona, where Faber is located. And we also took a walk with my Fox Terrier, Nellie, the evening before Anna departed Barcelona for her home in Yekaterinburg. Between those two meetings, during Anna's week-long stay in Olot, we corresponded via email about landscapes, residencies, and daily writing rituals.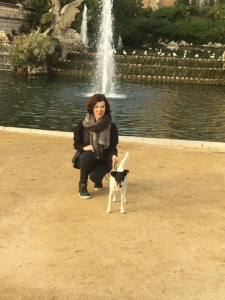 MBC: You and I met at a residency, Hawthornden Castle in Scotland last spring. That was my first time there, but you've had the honor of being invited to Hawthornden twice.
How have residencies functioned in your writing life? Are residencies necessary simply because they provide extended, uninterrupted time to write? Is it also beneficial to travel, to be far away from your country, your language, your comforts, the everyday and familiar? What does that do for the imagination?
AM: Hawthornden Castle is a really magical place! My first time there, in 2014, I finished my novel Vera Stenina's Envy and found a very good friend, British-Canadian writer Royston Tester, who's now living in Spain. The second session gave me an opportunity to work effectively on a novel Every Hundred Years and to meet new friends – you and Amali Rodrigo, a poet based in London. I love to get an opportunity to work at a residency, as I painfully lack quiet time for creativity. This is connected, on the one hand, with the constant need to "do something else." It's no secret that you cannot earn a living by literary works alone, and we all, writers, have to do some extra jobs. I, personally, work as a freelance journalist and editor. On the other hand, the beloved family (I have a husband and three sons, they're almost adults, but still also claim my time, and this is quite normal), but sometimes you want to be left alone with the text you've started – and eventually be able to put the final touches on it! In addition, I consider it very important to communicate with colleagues from other countries. It is vital for us, people of culture, to get to know each other and build our own bridges, independent of politics. And, of course, all of us need new strong impressions – it concerns the landscapes especially.
The fantastic nature of La Garrotxa is inspiring me here, in Faber residency. I'm feeling the energy of volcanoes, even if they have been sleeping for thousand years!
MBC: You've been in Catalonia for just a week, here at the Faber Residency. Have you had time to discover any Catalan writers? Perhaps had time to read any classics of Catalan literature?
AM: Unfortunately, I'm not a big connoisseur of Catalan literature, but I'd love to read more. I can mention one name, extremely popular in Russia – Jaume Cabre and his novel Jo confesso. But here, in Faber, another writer became for me a guiding star – not Catalan, but Argentinian! Julio Cortázar, my idol since youth. Why and how? That's the magic of Faber! I met here another resident, Marta Jordan, she's a translator from Poland, an amazing, extraordinary lady. Marta was a translator of Cortazar's plays and short stories, moreover they were friends. Can you imagine it? For me it sounds like somebody was a friend of John Lennon! Or even better! We have talked a lot about Cortázar – such a genius from Argentina combined with Russia and Poland in the fabulous Catalonia. As I'm a journalist too, I decided to do an interview with Marta for a Russian media outlet- and we did it here, after the long days of working and walking and talking.
By the way I "met" here one more Catalan genius – not a writer, but sculptor and painter. Jose Maria Sert, who was a beloved husband to Misia Sert, the heroine of my recent book Picture Girls (it's devoted to the models of great artists of the past, from the ancient Phryne to Gala Dalí). Sert was buried in Vic, so I had dreamed of visiting this wonderful place and the residency gave me the chance to do so!
MBC: When we were together in Scotland I loved watching you interact with nature, touching stones, wading into the river, talking to trees. One night you even told us a very violent, eerily poetic story inspired by a lilac bush that was just beginning to bloom. How does landscape affect your literary imagination? How have the Urals influenced your fiction? Could you explain how walking through a landscape, discovering woods, plants, moss-covered stones, is part of your creative process?
AM: Perfectly right you are! Nature is a very important part of my life as a writer and as a human being. In the Urals it means deep forests, the hills and the mountains, stones, snow and sun: my native landscape has inspired me all my life. In Scotland I admired the trees – maybe because of my new novel. One of the characters is a dendrologist, she knows everything about the trees and prefers trees to people. Of course, I tried to be very attentive in Scotland – every tree, every bush was so interesting, so unusual for me.
The other character of a novel is a mineralogist, that's why I'm so happy to be in Olot with its delightful volcanic zone. I saw at least three of them, touched the frozen lava, admired the memory of earth… And I'll never forget the mountains of La Garrotxa – its view changes every hour! All these impressions will be transferred to my new collection of short stories Doppelgangers on which I have begun to work at Faber.
MBC: Wonderful! I'm so happy that the volcanic area was inspiring to you. Olot and the surrounding hills are quite spectacular. I have a story set near there as well. There is an ancient feel to the soil, to the trees and their roots, that I also sensed in Scotland.
Could you tell us a bit about your writing routine in general? When you have time to work intensively on a project what is your daily regime like?
AM: I like routine, honestly. It helps me to work every day, because my regime has been the same for many years. I prefer to write in the morning, I'm a "morning person," but if I have to do something urgent, I do it in the evening. Besides that, I try to read every day – special literature for new research, books of my friends, etc. Sometimes a deadline helps me- if I know that I have not enough time, I'm writing more quickly (it doesn't always mean "better" unfortunately). I don't believe in "an inspiration." To my mind a professional writer has to work in any conditions, even he is not in a good spirit, even he hasn't free time. I love the words of Russian actor Konstantin Raikin: "If you do your best every day at least an hour, no one will ever catch you".
MBC: What a great quote! I'm going try for that. It sounds simple, but a good hour each and every day ends up adding up to a pretty amazing year.
Last but not least: Here in Olot, you're putting the finishing touches on your latest book Every Hundred Years. Could you tell us a bit about this project, a novel at the crossroads between fiction and non-fiction?
AM: For me the most interesting things in a modern literature are between fiction and non-fiction. My first novel The Dyatlov Pass (published in 2000, best-seller, translated to French, Chinese, Czech and other languages) was my first experience of that method, when a real story became a fundament for fiction. The new one is not the same, but close by. It consists of two diaries of two women, between them is almost hundred years… One diary is real, another is a fictional. They echo, then diverge, discover rhymes and coincidences.
The novel is based on the life story of my grandmother, Xenia Levshina. She was born in 1885 in Poland and lived an extremely interesting and complicated life, in which there were a lot of trials. Throughout her life, starting from the age of fifteen until her death, she kept diaries, the last ones being written in French, because my grandmother was a teacher of French, a founder of the department of foreign languages ​​at the Sverdlovsk Mining Institute, and even a military translator. The novel is based on these documents, as well as on the letters from the front and other documents from the family archive that I inherited from my father. Maybe one day it will be translated into Catalan? I would like it very much!
MBC: Yes! I do hope that your work will be translated into Catalan soon. Or that I learn Russian, but the former seems much more likely.